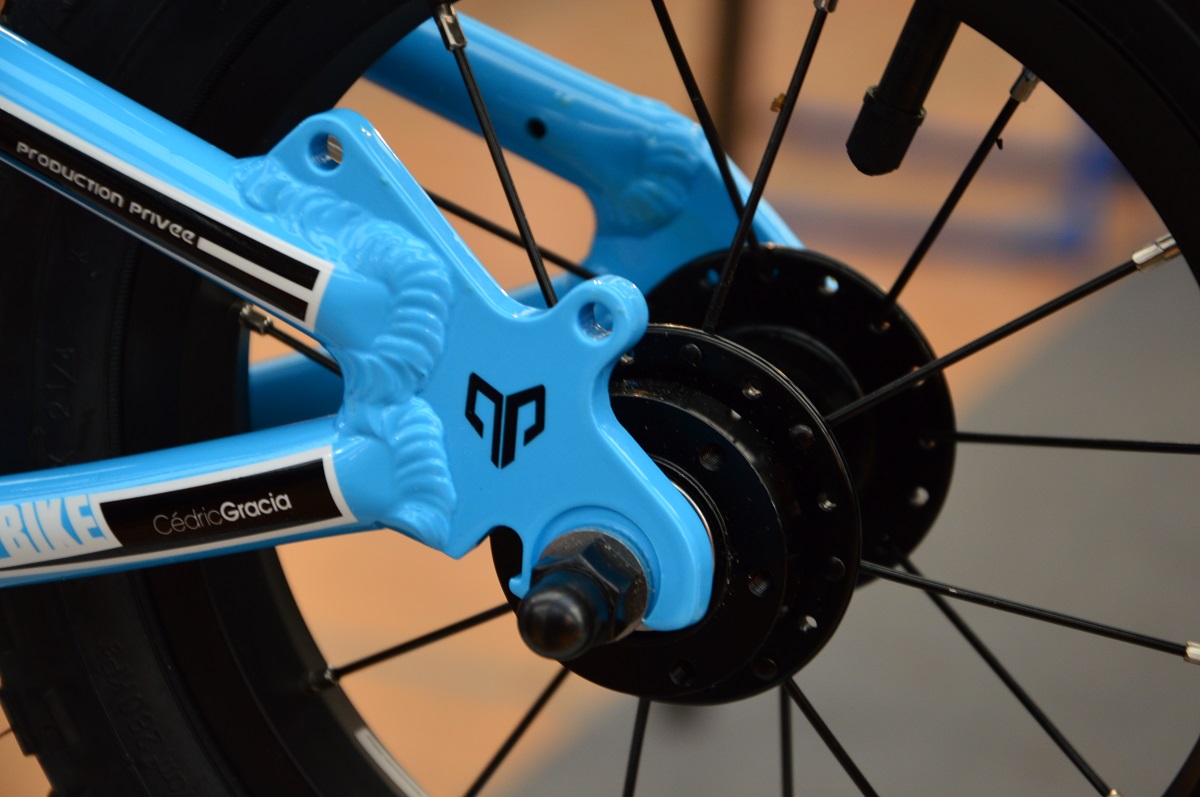 We are super excited to announce that we are becoming Production Privee stockists. Their business ethos goes hand in hand with what we believe in here at 4Play Cycles and in taking them on, we are delighted to be supporting two dedicated hard working guys who's passion for their brand and company makes them stand out against the other larger corporate giants.
Production Privée is a small french-owned company specializing in hard tail frames and full range of cockpit and components. Production Privée's state of mind is all about innovation with a new approach to the product. Whether it be a functional or aesthetic point of view, nothing is left to chance. Materials, manufacturing processes, supplier selection, all chosen for what is most effective in each area without compromise. Every single product is designed and developed in house, in Andorra, France.
Cederic Gracia:
Production Privee parts and components have been the cockpit of choice for the French mountain biking legend Cederic Gracia since the company started out in 2011; and his close ties with the guys at PP means that each part and component they develop is tried, ridden and tested by him before its release. Cederic Cracia also worked closely with the PP guys to develop the mini CG balance bike. A balance bike beautifully designed for the cool kids!
The Shan:
The original leading frame to be developed, the SHAN is an enduro frame for 160mm travel fork. It is designed without any compromise and is THE trail weapon for riding in a mountainous area. Ridden by our own Adam it turns a ride out into a special occasion! In three fab colour schemes, it's the perfect ride for gnarly trails. Build your perfect ride with this amazing hard tail frame.
Watch the video below to see a Shan in action! Oh, and take note he's top to toe in ION kit..which we love! (and sell!!)
SHAN GT: AVAILABLE TO PRE ORDER NOW!
December will see our first drop of the Shan GT. The brand new 29" hard tail frame compatible with 650+ tyres. This is a hard tail bike capable of riding everywhere. Long distance, high speed, enduro, trail, bike park, all in comfort and style with colour schemes inspired from the F1 racing world..hence its name the grand tourer..the Shan GT!
The original 27.5 Shan had great worldwide success. The GT follows this up with 29" or 650+ tyres so more comfortable and capable and tolerant of rough terrain, and still fast as hell!
Adam loves his trusty Shan hard tail and thinks rides out on it are a special occasion. Join him and fall in love with a Shan!
CG mini bikes, £149.00
We simply love these cool kids balance bikes. With design input from Cederic Grazia himself they are awesome for the cool kids in town with a load of design input to make them ideal to learn on. Including being lightweight, they have a foot rest allowing kids to learn to balance better, have different coloured grips to help differentiate left and right, real mountain biking hard wearing wheels and tyres and the rear hub and frame are ready to install a disc brake, should your little one be a dare devil! In two cool colours we think the kids will love these as much as we do!
Fall in love with the mini push bike. We think they're awesome! And if you need more proof, make sure you watch the video above!